Graduation Show 2018, Bachelors + Masters
July 5 – 8
After months of researching, thinking, testing, failing and succeeding, the moment of truth is finally here: we are thrilled to showcase over 400 graduation projects of the Willem de Kooning Academy's (WdKA) and Piet Zwart Institute's (PZI) graduates during the four-day event, WdKA Graduation Show 2018! Everyone is cordially invited to come and meet our freshly graduated Creating Pioneers!
Opening:
Wednesday, July 4: 17.00 – 23.00hrs
General opening hours:
Thursday & Friday, July 5 – 6: 11.00 - 23.00hrs
Saturday and Sunday, July 7 - 8: 11.00 - 18.00hrs
Location:
Willem de Kooning Academy & Piet Zwart Institute*
Blaak 10 | Wijnhaven 61 Rotterdam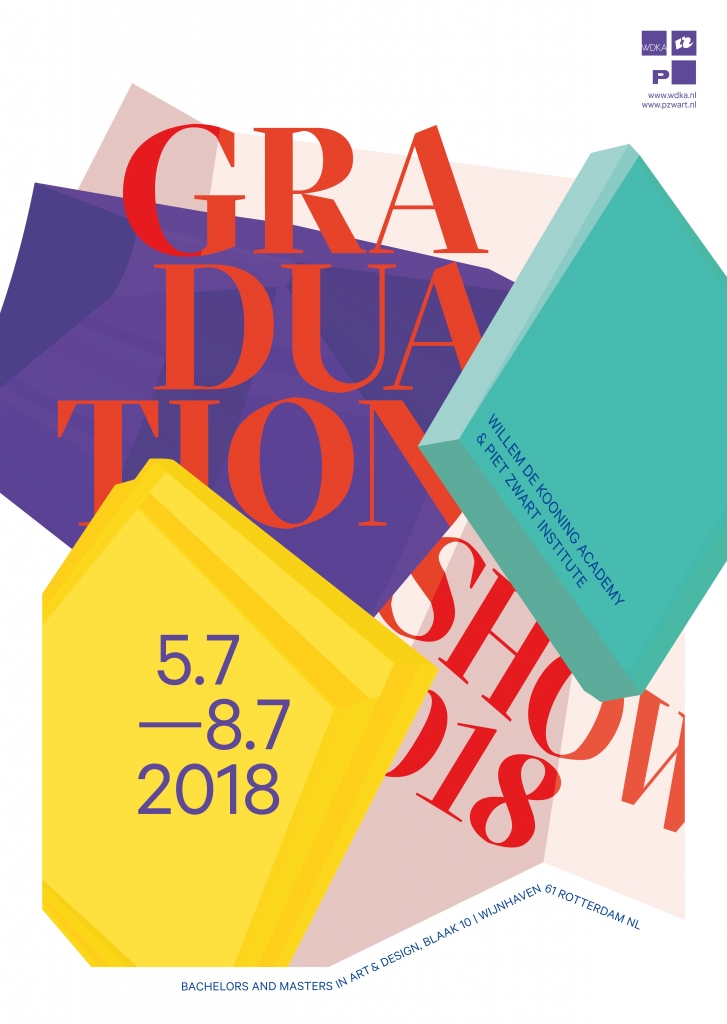 Keep an eye on our website and social media channels (Facebook, Instagram, Twitter and LinkedIn) for updates regarding the Graduation Show! Feel free to share your experiences, using the following hashtags: #wdka #pzwart #creatingpioneers #graduationshow2018 #wdkalife
*For its 2018 Graduate Exhibition, Tripping Autonomy, the Master Fine Art-Piet Zwart Institute is thrilled to be collaborating with MAMA for the third consecutive year! More information about this event.
Location: De Kroon, Schiehavenweg 14, Rotterdam (Delfshaven).
Opening: Friday, July 6 18.00 – 23.00
Open from Saturday, July 7 – Sunday, July 15  from 14.00 – 19.00, closed on Monday, July 9
Guided by Marloes de Vries (curator, MAMA), graphic design by Team Thursday. Performance programme on opening night, Wednesday, July 11 and Sunday, July 15
Graduation Show 2018 Design Team: Fianda van Kuler, Laura Ketting, Ricardo Abbaszadeh, Stella Shi (Graphic Design, second year).