At Willem de Kooning Academy, we create the setting in which students can develop and broaden their interests. They can choose different ways of working, the type of assignment that suits them best and even the style of learning and how to develop their talent.
Ah, the creative process is the same secret in science as it is in art. They are all the same absolutely.
You can find Willem de Kooning Academy right at the heart of the design city of Rotterdam. The academy is part of the multi-sectoral Rotterdam University of Applied Sciences (RUAS for short). RUAS is a dynamic knowledge institute for higher professional education.
Students not only choose a particular major course – let's say Advertising – but also a professional context or what we call a 'practice'. We offer three of these practices or graduation profiles: Autonomous, Social and Commercial.
Students can also enter an honours programme and/or complete their graduation specialisation by choosing an exchange programme at an academy or university abroad. This gives them the opportunity to adapt the academy's education programme to their own preferences and to the development of your own talent.
(Former) students participate in a wide variety of national and international contests, initiatives and programmes. Here is an incomplete overview: SpinAwards Young Talent Show, North Sea Jazz Art Poster Competition, Creative Press Challenge, Dutch Design Awards, Maaskantprijs, Onderzoeksprijs, Steenbergen Stipendium, Drempelprijzen, HEMA ontwerpwedstrijd, BAD Award, Henri Winkelman Award, Woolmark Prize, One Show, VEED Awards, YoungGuns International Award, Volkskrantprijs, Kunstprijs Binnenmaas, Art Rotterdam, Stimuleringsprijs DBKV and Best in Show Award.
"A radical spatial concept
Within the city of Rotterdam the Willem de Kooning Academie [WdKA] occupies a special position. Besides knowledge institute, the WdKA functions  as a catalyst for partnerships: a cultural space where students, alumni and international professionals meet each other. The current building has a closed nature and is not representing the numerous successful connections between the art institute and the city. With the challenge of converting intangible structures into a new spatial design, TomDavid & Kraaijvanger laid down an ambitious plan that won the selective tender."
(TomDavid Architecten)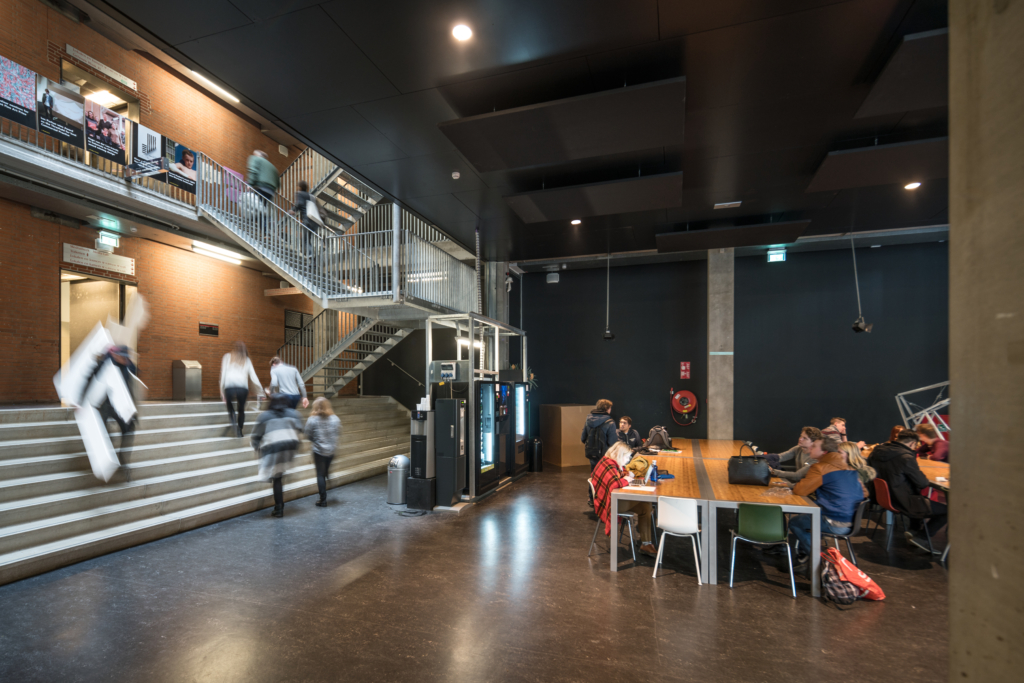 Complete makeover
Willem de Kooning Academy is located at Blaak 10 and Wijnhaven 61, two adherent buildings connected with an air bridge. In the last couple of years, the academy had had a complete makeover in line with its renewed curriculum. WdKA hall, photography, Ossip van Duivenbode
Since 1998, we proudly carry the name of one of most famous alumni. Willem de Kooning Academy is conveniently located at Blaak 10 and Wijnhaven 61, two adherent buildings connected with an airbridge. The beautiful Blaak 10 has always been regarded as the 'home base' of the academy. Due to expansion and an increasing student population, the Wijnhaven 61 building was assigned to the academy in 2007. On top of this, the Leisure Management programme was added to the curriculum.
In the last couple of years, the academy had had a complete make-over in line with its renewed curriculum. Education is now based around state-of-the-art stations. Stations are not the 'property' of any particular major, minor or practice, but are a meeting place for students and teachers across subjects and years. Here you can find all the expertise and facilities (hard- and software) that you need to carry out your work. Students have access to the following stations: Interaction Station, Image & Sound Station, Publication Station, Material Station, Drawing Station, Fabric Station,  Business Station, Education Station and Research Station.