Function Visual Artist
Year 2012
Major Photography
Practice All Practices
About Csilla
Csilla Klenyánszki's (b. 1986, Budapest) performative interactions can be seen as personal research for balance. A constant attraction to physical and mental tension characterises her work. The projects play with the borders of nonsense; something that looks foolish at first always finds its right place at the end. The nature of the work is highly playful and experimental, but the approach is rather analytic. Her current practice focuses on gender, the human-object relation and time and artistic method balances between installation- and a simplified version of performance art, in combination with photography and Csilla's work has been exhibited nationally and internationally in the Netherlands, Hungary, Poland, Germany and South Korea. She has recently won the Still life prize at the 33rd Festival International de Mode & de Photographie in Hyères, France and her first book, Pillars of Home was shortlisted for the Unseen Dummy Award 2018.
What is your occupation now?
I am a Hungarian visual artist living with my son and partner in Hoorn (above Amsterdam). I have graduated from WdKA in 2012. In 2014 I participated at SeMa Nanji Artist in Residency by the Seoul Museum of Art at Seoul, South Korea. After becoming a mother in 2015 I have founded Mothers in Arts Residency. This residency is an experimental model that combines a studio space with a communal daycare. My current practice focuses on time and the representation of women through photography, video and installation.
How do you remember your time at WdKA?
I am grateful for all the things I have learnt at the academy and for the people I met: for me, it was one of the most important periods of my life. Although at the time I was studying at the Willem de Kooning, the Photography Department was brand new - we were the second year and thus the second class to graduate with a major in Photography. This also meant that the department had not been fully developed at the time. During the four years of my photography studies, we had seen three different Heads of the department. It had also started as a Commercial Photography Department, that later became Fine Art Photography and now - as far as I know - it merged with the Fine Art Department. So besides having a lot of nice memories - and some amazing teachers - it was also a bit chaotic.
The department has finally found its goal and signature
I heard that since Karin Arink has become the Head of both Fine Art & Photography Departments - she used to be the programme coordinator in the last year of my studies and she was wonderful. The department had finally found its goal and signature, so I am really happy that she is still there. It is essential to have a good leader, someone who puts her heart into the work with a clear vision, especially at an art academy.
Favourite WdKA memory?
When I was a student at the WdKA, the academy had its own gallery, called Blaak10 in the middle of the Witte de Withstraat. Blaak10 showcased the work of alumni, teachers and students. As a part of the curriculum, you could work at the gallery - develop its projects together with other students etc - for a half a year. That was a great experience, especially because we also had to develop and realise the gallery's exhibition for Museum Night.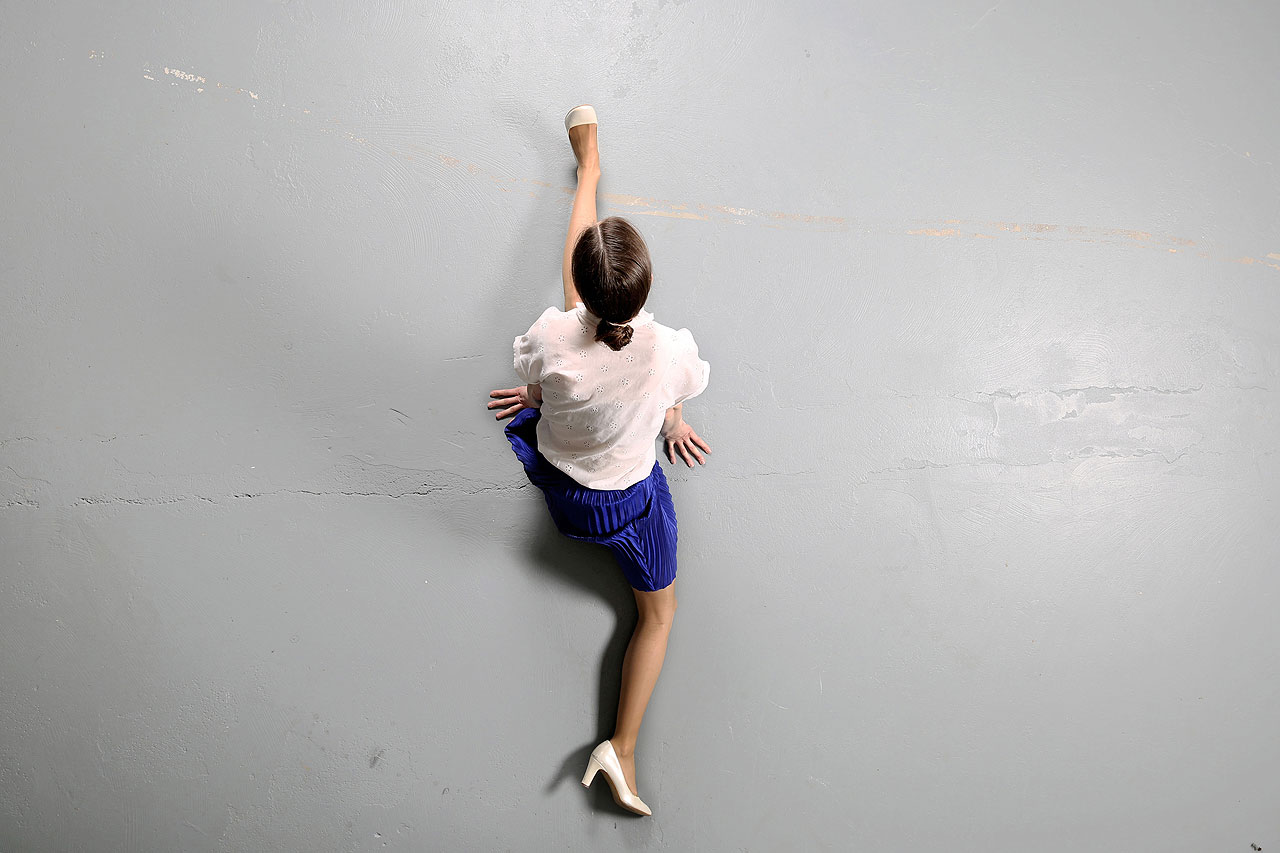 Being an international student at WdKA and now an international artist in the Netherlands, how does that work and feel like?
I have studied Dutch Language and Literature in Hungary before I came to the Netherlands. And I had lived in Rotterdam a year before I started the school: I think that was a sound basis for me. Because I spoke Dutch, it was relatively easy to find a part-time job next to my studies. Which was extremely important, otherwise I couldn't have been able to afford to study in the Netherlands. On the other hand, the Dutch art scene is so internationally diverse that lately I barely talk in Dutch.
What is the future of your profession in your opinion?
It is a difficult question. Now that anyone owning a smartphone can take a brilliant photo, there is not much of a need for professional photographers anymore. So it's key that artists using photography are able to offer something extra, besides a technically impeccable photograph. Of course, that is also the reason why art academies exist, so students can become skilled creatives. Also, combining photography with other disciplines, such as video, installation, graphic design or interactive design is important for an artist.
You never leave your house without...?
My son ... cellphone, agenda/notebook, water.
House/Hold, template
"House/hold" is part of a research project on women's position in Western society. It examines the evolution of gender equality in various subjects."House/ hold" investigates the housework gap and its consequences while it provides an ironical solution for women: a 30-minute yoga session combined with domestic chores.

The session transforms the house into a space for meditation using domestic objects as its basic elements. Housework is being transformed into illumination: the repetitive act of house making becomes not just a physical but also a mental and spiritual act where women and their household objects become entangled. "House/hold" is a guide for domestic meditation.
Any words of advice to future students?
First, I think it is extremely important for students to be aware of the challenges of being an artist. Especially now, when most students have to get into debt in order to study.
For example, that according to a current study by the BKNL 95% of artists working in the Netherlands live under the poverty line. So, I would advise reading about the experiences of emerging artists, because it can give the idea of how the art world works. In the spring of 2018, the Dutch newspaper Trouw, published an article "How do you survive as a young artist?", an interview with four young artists about their experiences in the cultural sector. The report says that artists are underpaid, do not go on holidays, live in cheap, undermaintained buildings that are rented out to prevent squatting and most of them have part-time jobs next to their intense artistic careers.
As a reaction to the article Ingrid van Engelshoven, Minister of Education, Culture and Science said that the Ministry would look into this alarming situation and see what can be done to reach fair artist - payment.
If the students gain more knowledge about their possible prospects, they will be more prepared. The should know what kind of subsidies can they get and where to look for them, how to write a (grant) proposal, how and where to find residencies, open calls, how to exhibit own work.
I also find it vital that artists emphasise their importance in society as a team: they give critique to political, economic and social systems, they inspire communities to engage thoughtfully and make steps toward social progress. Artists also play a positive role in gentrification helping economical progress.
Students should not see each other as competitors but should support each other in the creative process or even better, they should collaborate, they should build something together. A collective is always stronger than a single individual.
It is vital that artists emphasise their importance in society as a team
Name your favourite recent project
In 2016, after the birth of my son, I have found a residency, called Mothers in Arts. Mothers in Arts Residency (MA Residency) is a studio space combined with a communal daycare. The residency is specialised in supporting women artists, who are also mothers. Mothers in Arts is free of charge; the artists agree on taking turns to work and look after each other's children around an organised work schedule. The residency provides the new mothers with an opportunity to continue their artistic development.
This trial residency was supported by Stipendium Program for Emerging Artist, awarded by the Mondriaan Foundation, based in the Netherlands.
Mothers in Arts had invited three women artists to work in the studio when their children between three months to two years old. The residency is designed based on the childcare policies in the Netherlands: three months is the given maternity leave and two years old is the minimum age when children are provided with two days a week of subsidised daycare. This in-between period is crucial for an artist-parent: through the strict schedule and the constant attention which a baby requires, critical practice becomes limited.
Mothers in Arts and the trial residency were created with the aim to help artists in combining their artistic practice and early parenthood. Through this project, I wanted to start a discussion about the problem that affects many (emerging) artist women when they become parents. Even though many artists have children, parenthood remains stigmatised in the art world. Which means that besides the physical and mental challenges of childbearing - which are consuming enough - an additional feeling of being isolated can be felt by many mothers.
After becoming a parent, maintaining a professional life becomes more difficult
This situation is not exclusive for artists, of course, it is a common challenge for most of the working mothers. After becoming a parent, maintaining a professional life becomes more difficult.
Mothers in Arts is geared to artists who are mothers too, and by drawing attention to this hidden segment of the art world I would like to stimulate working mothers in general. By showing and promoting their existence, I hope that the professional and the general public realises and acknowledges their importance as a matter of public health.
Your plans and dreams for the future?
As for the near future: I hope to finally publish my first book - Pillars of Home. This was a project I made after the birth of my son, the challenges of early motherhood transformed into a game: the lack of time, the fragility of a new life, the weight of responsibility, our changing identities, tension. Care, strength, patience, devotion. These are the things holding it together.
Pillars of Home are ninety-eight balancing sculptures, made during my son's nap, when our home - the living room, the kitchen, the bedroom or even the staircase - has become a studio for no more than thirty minutes at a time. Pillars of Home gives ninety-eight answers to one question: how does a mother find the balance between all her priorities. A never-ending juggling act. Pillars of Home already exists as a dummy book, and it was shortlisted for the Unseen Dummy Award in 2018.
I also would like to follow some theoretical studies: in the past few years, I became more involved with social projects and I would like to broaden my theoretical knowledge within these topics.
Cover image: My Beautiful Fower, 2017