On October 11th we will open our doors for the annual Portfolio night: a special event showcasing our third year creating pioneers to their future work field. Our students are eager to receive professional feedback on their portfolio and possibly talk about an internship. Professionals from the fields of Fine Art, Animation, Audiovisual Design, Photography, Graphic Design, Illustration, Lifestyle Transformation Design, Fashion Design, Product Design and Spatial Design are more than welcome to visit and check out what our students have to offer. Please register here to visit.
Date: 11 October 2017
Time: 19:30 – 21:45
Location: Wijnhaven 61
3011 WJ Rotterdam
Please note: Our students in the major Advertising are hosting a separate portfolio event this year.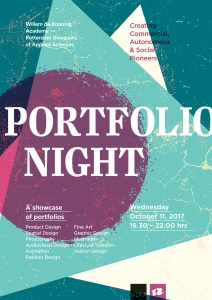 Poster design: Matthijs Keesenberg